Moving furniture is a big deal and it becomes more difficult when your furniture is heavy in weight. Most of the homeowners prefer professional help for moving furniture because It is very complicated to do this perfectly. We also recommend that you should hire professional removalists for easy and quick removal.
Usually, moving heavy furniture seems a work of hassle but for safety, it should be performed carefully. Still, you want to do your yourself for saving your money. If you are naive in this work and want to learn tips for moving furniture, continue to read and do your work easily with our guidelines.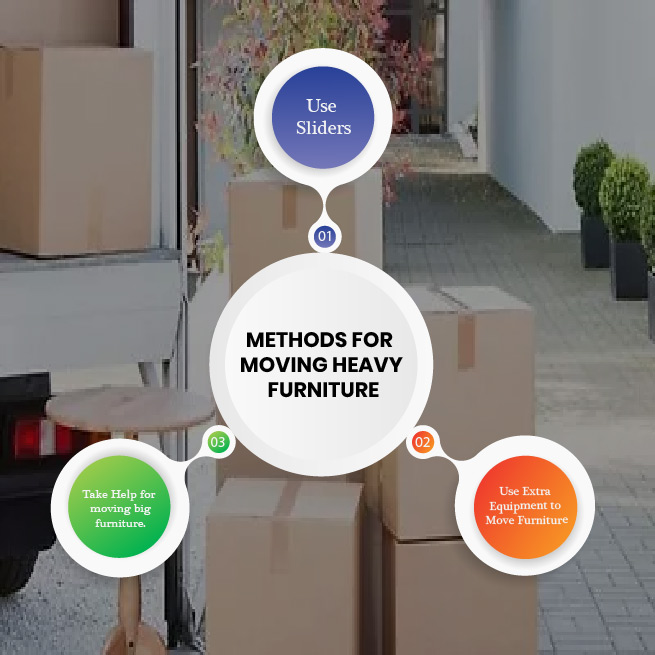 3 Methods for Moving Heavy Furniture
Buy Sliders:

Invest some money for buying new sliders by which you can slide your furniture. You can buy these sliders from your local hardware or home assets store. If your flooring is covered with carpet, then you can use these sliders for moving heavy furniture.

Place Sliders Under The Furniture:

Place your sliders under the corners of furniture. First, lift each corner of your furniture and put one slide at every corner. This will make easy for you in moving while reducing the friction force.

Push Furniture:

Push your furniture for replacing the furniture where you want to put it. In this process, you can get help from another person to make sure that furniture is moving in the right direction. You can also get help from furniture removalists for doing this job. Then, start work from the lower section of furniture and push your furniture quickly.
Method 2: Use Extra Equipment to Move Furniture
Use Arm Dolly or Hand Truck Trolley:

For moving furniture, you can also apply arm dolly that will help you in lifting the furniture accurately. Usually, both arm dolly and hand truck trolley are used for lifting the weight. You can buy these accessories online and lift your furniture quickly.

Use Moving Blankets:

If you don't have sliders, you can also use moving blankets. Usually moving blankets are safe for moving furniture. Put the entire blanket under furniture carefully and then, pull it from one side to move in the right direction. For moving furniture up or down, you should be careful and get help for a residential removalist. You can also get help from us if you need removalists or interstate removalists. We provide services carefully.
Method 3: Move Heavy Furniture Mutually
Work Mutually: When you move your furniture mutually, you can complete your work quickly and perfectly. When your furniture is large in size like almirah or bookcase, you can hire the Best Removalist in Adelaide. Hiring professionals will make your work easy and quickest. Before moving any furniture, empty it and then move. This will reduce weight.
Bend from The Knees While Lifting: You can bend from your knees while lifting your furniture and take care of also corners. When you pass from corners, move your furniture angle according to corner's angle. So, you can protect yourself from any injury. Still, for extra safety, you can hire removalists.
Get Professional Help
Moving furniture is dangerous sometimes, especially when you have back pain problems. In such situations, you should definitely hire Interstate removal services. And, Door 2 Door Movers is the right place where you can complete your requirements of removalist services. So, be quick and hire services now!!!
Suggested Blog Source –